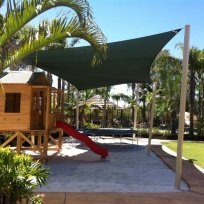 Taskers are best known for yachting, but did you know that we are also specialists in the design, installation and maintenance of shade sails in perth?
We have been designing and manufacturing sails for yachts for 60 years, and Taskers incorporated shade structures into our repertoire over 20 years ago.  Our vast experience in engineering and designing yacht sails was an excellent asset in breaking into the Perth market.  A great deal of our skills transferred to the manufacture of shade sails, and we have gained a wealth of experience since.
With the Taskers shade sail Perth team, have the peace of mind that you will have a structure designed for maximum protection from Australia's intense summer sun.  Also know that you will receive the highest quality workmanship and materials.
Take advantage of the excellent Taskers service, and contact us today for an obligation free quote.  We will come out and meet you in your home or business at a time that suits.